Big Changes Ahead for Big Organizations (and How You Can Benefit from Them)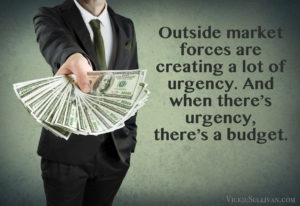 Yes, we live in a digital world. But how do those changes play out in larger organizations? Where are the opportunities? This fabulous 2017 predictions report from Josh Bersin (yes, I'm a fan!) on upcoming upheavals has some great insights. (Note: Registration required to download the report.) My favorites:
• The workforce structure is scattered. Scale and efficiency is still important, but those concepts are being redefined. Watch for teams to be restructured and redesigned around changing market forces. This is a great opportunity not only for futurists, but also on-the-ground experts.
• Identifying and diagnosing are hot ticket items. The need to act faster creates a boatload of opportunities for all sorts of experts. Finding leaders faster, removing unconscious bias, etc. will create a lucrative market for thought leaders who have killer leadership models.
---
Listen: 2 new ways to adapt your expertise to these trends
---
• Experience is going to the invisible. We've been hearing about "creating an experience" for many years. It's undergoing a change now. The biggest shift: making "experiences" a big tool for defining the culture. Watch for more elephants in the room to be addressed openly. This requires going beyond behaviors and into state of being. Executive coaches will have a field day.
Bottom line: Outside market forces are creating a lot of urgency here. And when there's urgency, there's a budget. Get ahead of the curve here, and you'll solidify your position as the go-to resource.
---
Other Resources You May Like: