Love In Action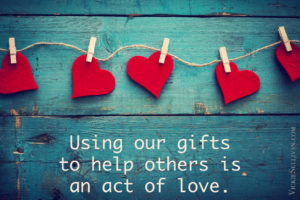 Today is Valentine's Day, a time where romance is center stage. As I reflect on my 30th anniversary serving thought leaders, I see love in a broader view.
My best example of love in action:
• It's February 1987. I just left the political field, not knowing what to do next. On a whim, I answered an ad to promote a professional speaker. Luckily for me, Robin Johnstone saw potential and took a chance. (Love miracle #1)
• Within a week, I had found my purpose. I discovered my place in the world. It felt like love at first sight. (Love miracle #2)
---
Listen: How love shows up
---
• Three weeks later, his friends Larry and Carol Barkin hired me to promote their thought leadership, too. (Love miracle #3) The rest they say is history.
You see, I'm not an entrepreneur by nature. I never wanted to build or run a business. What launched my enterprise was falling in love with my clients. When I develop their platform, it feels like I just rocket-launched goodness out into the world. Together, we make the world a better place.
And that's what has kept me going for the past 30 years. Using our gifts in service of others is an act of love. And coming together to serve the greater good is love in action.
Happy Valentine's Day, everyone!
---
Other Resources You May Like: