Play a Big Role In this Meeting Trend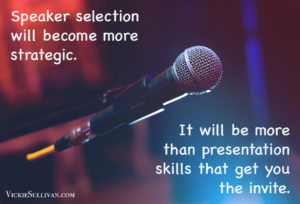 OK, one more predictions article and then I promise I'll be done.
This Successful Meetings article on trends in the convention business has new ways for thought leaders who speak to increase their value.
Pay attention to these findings:
• Speaking is going local. One expert noted that convention and visitor bureaus (CVB) are great sources for experience-based learning, creating access to business leaders, popular professors, etc. Idea: Use this trend to your advantage by joining a CVB; its calendar could be a good source of leads.
---
Listen: How to position your speaking for local markets
---
• Personalization within meetings. Some events want to bump up the networking by helping attendees "find their tribe." Yes, technology will play a role. Can speakers help with networking? You betcha. Watch for this to affect speaker selection as thought leaders with prominent communities will get preferential consideration.
Like the rest of the world, the meetings industry is changing fast. Between local talent and free experts, getting paid can be a challenge for the non-descript speaker. Watch for speaker selection to be more strategic. It will be more than presentation skills that get you the invite.
---
Other Resources You May Like: